Spanish version of the popular American news and opinion web to launch the first quarter of 2012
12/12/2011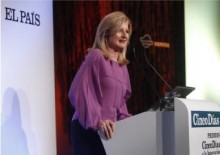 The Huffington Post Media Group and EL PAÍS today announced plans to launch El Huffington Post, an international Spanish-language version of The Huffington Post, the popular American news, opinion, community and social engagement web destination. The announcement was made by Arianna Huffington, President and Editor-in-Chief of the Huffington Post Media Group and Juan Luis Cebrián, president of EL PAÍS' and PRISA´S CEO.
El Huffington Post will combine the local editorial expertise of EL PAÍS, the leading Spanish newspaper and one of the most widely-respected global news dailies, with The Huffington Post's pioneering combination of original reporting, aggregation, a leading-edge commenting forum and dynamic social engagement tools, and a vibrant platform for a wide range of bloggers.
The partners will also focus on original editorial content through an affiliated network of journalists and bloggers. El Huffington Post is recruiting an editorial team in preparation for launch the first quarter of 2012.
About the Huffington Post Media Group
The Huffington Post is part of AOL's Huffington Post Media Group ("HPMG"), a leading source of news, opinion, entertainment, community and digital information comprised of a diverse network of destination websites, including The Huffington Post ("HuffPost"), Moviefone, Engadget, TechCrunch, Patch, Stylelist, and MapQuest. HPMG's sites combine journalism, technology, engagement, and video to reach a global audience on every platform. The Group has over 20,000 bloggers -- from politicians and celebrities to academics and policy experts -- who contribute in real-time on a wide-range of topics making news today. HuffPost has 37 million unique visitors a month, per comScore (November, 2011), and has an engaged community that posts over 5 million comments a month. The Huffington Post UK and The Huffington Post Canada both launched this year, and Le Huffington Post France and Le Huffington Post Quebec, are launching soon. 
About AOL
Having helped millions of Americans to get online, AOL Inc. (NYSE: AOL) is on a mission to inform, entertain and connect the world. The home of a world-class collection of premium brands, AOL creates original content that engages audiences on a local and global scale. We help marketers connect with these audiences through effective and engaging digital advertising solutions.
About El País
EL PAÍS, born in 1976 and published in Spain, Europe and Latin America,  is part of PRISA Noticias, the press division of PRISA, including also the business newspaper Cinco Días, the sport daily paper AS, and a group of magazines in Spain and Portugal. Elpais.com, the web site of EL PAÍS, is one of the most visited news sites in Spanish language. PRISA is the world's leading Spanish and Portuguese-language media group in the fields of education, information and entertainment, thanks to its multi-channel offer of high-quality products. Present in 22 countries, it reaches more than 50 million users through its global brands El País, 40 Principales, Santillana and Alfaguara. Its presence in Brazil and Portugal and among the growing Hispanic community in the US has given the group a Latin American dimension and has opened up a potential global market of 700 million people. PRISA is also Spain's leading company in the production of digital news and information, education and entertainment with a clear focus on multichannel access. It has over 250 web pages, visited by 52 million users a month across different product segments, with streaming figures of over 18 million songs.